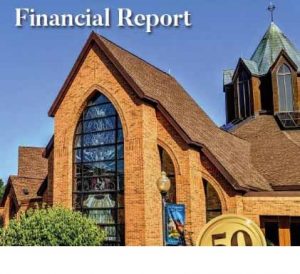 Dear Fellow Parishioners,
Father Meng, the other Finance Council members, and I are pleased to provide you our audited financial report for the year ending June 30, 2019. Please click here to view our Parish Financial Report. It includes a letter from Father Meng, some interesting parish statistics, the Church and School Statement of Income & Expenses, as well as some pictures taken of various events throughout the year.
Of particular interest, I would like to point out that we have successfully completed the Parish Center Capital Campaign project. Thanks to your support, we have paid off all associated costs in full and have no debt. You will see the related expenses recorded under "Capital Expenditures/Renovations" in the Income Statement. Thank you for your generosity and for your patience during the construction project.
During this current year, our 50th Anniversary, we are seeing the need to increase our offertory to keep our parish financially strong. The Parish Offertory is our main source of operating income used to fund our mission: Living our faith through the Sacraments, Apostolic Service, Education and Community Life. Supporting this mission involves Religious Education to maintenance and everything in between: Youth Ministry programs, utilities, insurance, employee salaries and benefits, repair and upkeep of buildings and equipment, and long-term updating of our facilities.
Father Meng and I ask that each parish household prayerfully consider your financial support of our parish based on the blessings you have received. Each of us is called by God to give in proportion to the measure by which we are blessed, each according to their own means. Your gifts then enable the mission of our parish. After your reflection, I ask you to use Faith Direct as your means to act on this commitment to support the offertory for the next twelve months. We need the support of all parish families. Thank you for your consideration and support!
Please keep our parish in your prayers, and on behalf of Father Meng and the Parish finance council, I want to again express my deep and sincere gratitude for your trust and support.
In Christ,

Michael E. Reheuser
Finance Council Chair & Parishioner
St. Timothy Catholic Church